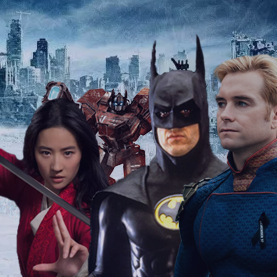 The world may be slowing down but the news cycle hasn't so Kneel Before Pod assembled a team to discuss what has been going on and what has been viewed during this unprecedented time. Craig, Chris and Aaron discuss whether The Umbrella Academy season 2 is worth watching, whether they'd pay for Mulan on Disney+ and speculate on Michael Keaton's return to the role of Bruce Wayne.
Craig and Aaron can be found on this very site. Chris can also be found on a Sunday between 12 and 3pm GMT live on Black Diamond FM as well as on many of the previous podcasts.
Show Notes
---
Reviews
Podcasts
Trailers
Misc
Music
Additionally , Craig is co-hosting a podcast discussing Star Trek: Lower Decks over on the "We Made This" Network. Check out "Rarely Going" wherever you get your podcast
---
If you enjoyed what you heard here then please do subscribe to Kneel Before Pod on iTunes, YouTube or any major podcasting app you can think of. If you have any feedback then we'd love to hear it. You can find us on Facebook and Twitter or just make yourself known in the comments section below.