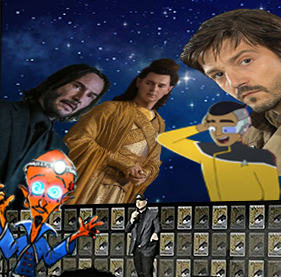 July 2022 is in the past but it wasn't without news and trailers. San Diego Comic-Con took place and drop lots of exciting teases as to the future that Kneel Before Pod had to pass comment on. The conversation covers unconventional crossovers, reviving properties and Marvel's organisational skills.
Craig can be found on this very site and over on We Are Starfleet on the We Made This podcast network. Izaak can be found on his Twitter or on his website. Aaron can be found on this very site. Kat can be found on Twitter and elsewhere under here. Chris can also be found on a Sunday between 12 and 2pm GMT live on Black Diamond FM
Show Notes
---
TV
Movies
Podcasts
Trailers
News
Misc
Music
---
If you enjoyed what you heard here then please do subscribe to Kneel Before Pod. If you have any feedback then we'd love to hear it. You can find us on Facebook and Twitter or just make yourself known in the comments section below.